GenJ
The changes and reports which I had been working on have either made it into cvs or are now out of date.
The only remaining changes which have not been commited to GenJ cvs are a new set of png icons and the associated changes from moving from gif to png. Here is a screenshot compairing the look and feel of the existing gif images/icons with the png icons: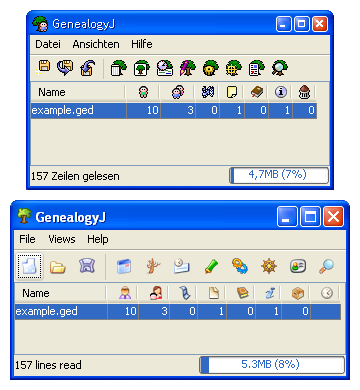 An archive of the Png files in the correct directory structure is available here.
Simply inflate the archive in the GenJ directory and then replace references to .gif extensions to .png by applying this patch which amends the gedcom definitions eg /dev/app/contrib/LDS/gedcom-5-5-1.xml and in other assorted places in the code (eg in view factories such as /dev/app/src/core/genj/nav/NavigatorViewFactory.java) to use the png files instead of the gifs.
| | Gifs | | Pngs |
| --- | --- | --- | --- |
| | | | |
| View Icons | | | |
| | | | |
| Menu Icons | | | |
| | | | |
| Report Icons 1 | | | |
| Report Icons 2 | | | |
| Report Icons 3 | | | |
| | | | |
| Edit Icons 1 | | | |
| Edit Icons 2 | | | |
| | | | |
| Navigator Icons | | | |
| | | | |
| Entity Icons | | | |
| | | | |
| Tree Icons | | | |
| | | | |
| Misc Icons | | | |
| | | | |
| New Icons | | | |
| | | | |
| Time Icons | | | |
| | | | |
| Gedcom Icons | | | |
Individual Icons
Name
Gif
Png
Addr
Adoption
AdultChristening
Annulment
Association
Attribute
Baptism
Bar
Bas
Birth
Blessing
Blob
Burial
Caste
Cause
Census
Child
Code
Confirmation
Cremation
Date
Death
Description
Disk
DivorceFiled
Divorce
Education
Emmigration
Engagement
Error
Event
Fam
FemaleChild
Female
FirstCommunion
Format
FrenchR
Gedcom
Graduation
Gregorian
Hebrew
IDNumber
Immigration
IndiFemale
Indi
IndiMale
Julian
MaleChild
Male
MarriageBann
MarriageContract
Marriage
MarriageLicence
MarriageSettlement
Media
Migration
Name
Nationality
Naturalisation
Note
NumChildren
Occupation
Ordination
Phone
Place
Private
Probate
Property
Question
Religion
Repository
Residency
Retirement
Sex
Source
SSN
Submitter
Time
Title
Type
Web
Will